On the 8th June Dock City Rollers travelled to a warm and sunny Stockholm, ready to take on STRDs B-team, the BSTRDs. As soon as we all got used to the sudden summer heat the bout turned out to be a great event and the BSTRDs were really nice and hardworking opponents.
Once again Muffa from CCR came to join us as our bench coach and the line-up manager was our very own captain Mad Fish who unfortunately couldn't play that day.
DCR took lead in the first jam and then managed to do so in almost every jam that was played. We also managed to keep a point lead throughout the entire bout except for the first jam, steadily increasing the distance to the other team. When the final whistle blew after a finishing power jam the score was 303-101 to DCR, a really great accomplishment by everyone involved.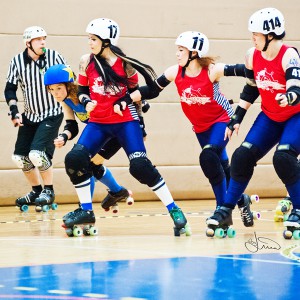 This victory made Dock City Rollers climb several steps in the Derby Data rankings, from position 113 to position 88. Next stop will be the Swedish Championship which will hopefully bring us even higher up on the list!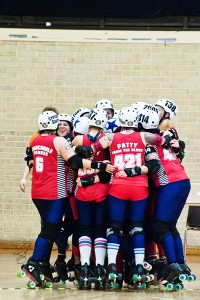 All pictures are taken by photographer Carolina Makkula (Facebook page can be found here).