Gothenburg has finally got an outdoor track! Last week Rullevi was inaugurated in Frihamnen with great pomp, complete with scrimmages, open skate and roller disco. To add even more derby to the weekend DCR hosted a bootcamp led by three awesome players from Auld Reekie Roller Girls.
DCR player Attank shares her thoughts and experiences from the weekend.
I was one of the attendees at the bootcamp, which was also my very first one!
We started of on Friday evening around 18 and meat with Crazylegs, Admiral Attackbar and Ciderella. Then we were off to a few hours of intense derby practice. It has been such a great fun weekend I have a hard time remembering all the different and awesome drills they made us do. But there were a lot of practice of our side to side movement on our own as well as(ses) together.
After a few hours of sleep we were then on it again at 9:00 the next day, Saturday, in the venue of Angereds hallen where the ventilation had broken down.
This day DCR had also invited participants from other leagues, so we were quite a few players sweating together. I found this very educating since I didn't know many of the players and had never practice with them before. You really get thrown out of your comfort zone trying to communicate with a person you've never met before. One of my favorite type of drills were one where the group were split in two or three different groups; one with 2-4 blockers that should sprint back, then one or two other groups of jammers and/or defensive players. We went through many different takes on this drill but the main theme I favored were when, being a blocker, sprinting back towards the leading jammer and trying to stop her as the other jammer or defensive player approaches. This was such a rush and trilling maneuver that had I had the time to think I would have been terrified but it was so much fun and Attank doesn't think she just goes…
After this highly energetic start of the day, which actually consisted of six hours of practice, we were picked up by a bus towards the opening of "Rullevi". The new outdoor track located in Frihamnen here in Gothenburg. At 17:00 we were to play a friendly scrimmage together with our participants in the bootcamp as well as players from Gothenburg Roller Derby. As this was my very first scrimmage in front of an audience I was a bit nervous, but as soon as I had my feet on the track the excitement took over. It was the best feeling seeing both some of my best friends as well as my family in the audience, trying my best on the track together with a bunch of, to me, great new players. The evening ended after a session of Roller disco and some participants trying to do the tango and very sore feet!
The next day, the bootcamp continued. The day started with quite a lot of jumping practicing, jumping straight up, jumping backwards, jumping the apex, 180° jumps and so on! Then we also practiced to jump the apex passing two blockers, both passing them in the same and the opposing direction. During the afternoon we focused on tactics and got a lot of great feedback from the Auld Reekie players! Over all, it was a very intense weekend, but my goal was to have fun and I sure had.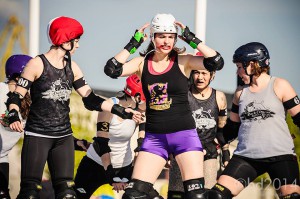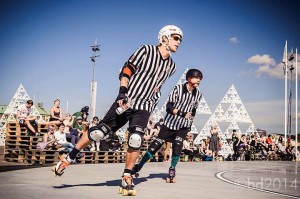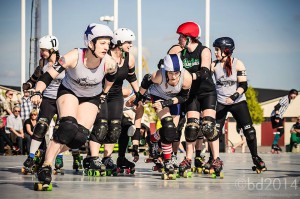 Pictures provided by bengtster design.