Saturday 14th December 2013 was a day that will make the history books for Dock City Rollers. Not only did we celebrate our first birthday, but we also hosted our very first home bout against Dirty River Roller Girls from Turku and what a fantastic bout it was!
DCR started off really strong and manage to keep the lead throughout the first period. As the second period began DRRG was out for revengeand managed to close in really fast. Just before the very last jam the scores were tied, 147-147. The entire crowd was on its feet and all players were really nervous, but still both excited and focused. As the whistle blew it looked like DRRG's jammer was going to get lead status, but as she cut the track and got sent to the box it DCR suddenly got a well needed power jam- When the jam finally was called off the final score was 162-147 to DCR!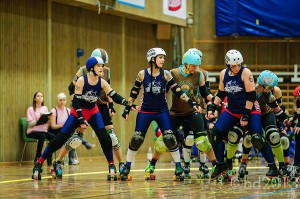 At the prize ceremony the awards for Best Blocker went to Crocodile Sandee (DCR) and Juicy Butther (DRRG) while the awards for Best Jammer went to Fräulein F. Reckless (DCR) and Bam Yaffa (DRRG). After all the cheering and hugging everyone went on to the after party at Kontiki, dancing and celebrating all night long.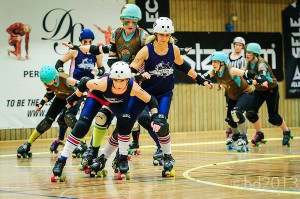 Thanks to everyone who has been with us through this first amazing year, we are truly happy for your love and support! Stick around, we're sure 2014 will be awesome!
(The pictures are taken by the fabulous Bengt Persson of Bengtster Design)