Last weekend, the 15th of February, Dock City Rollers played the first bout of 2014 (their second home bout!) and this time it was a crazy exciting and even game against Oslo Roller Derby.
Both teams fought hard and well but at the end of the second period Oslo Roller Derby managed to claim the gold as the score table read 150-148 in their favour. DCR wants to congratulate Oslo on the victory and for such a fun and well played game. We are definitely looking forward to meeting you guys again on the track very soon.
We are also proud to announce that three of our members are no longer bout virgins! Blitz Please, Knock-Off and Hisingen High-Kicker all showed that they have a well-earned place on the roster and will surely be a great contribution to future bouts as well.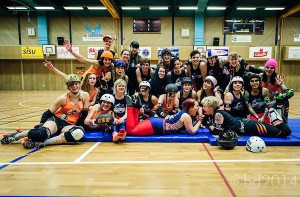 As of now: Dock City Rollers are training and are more motivated than ever to win the next upcoming bout in Copenhagen against the Rolling Heartbreakers! Stay tuned.
(The pictures are taken by the fabulous Bengt Persson of Bengtster Design)