Last weekend's bout against Tampere Rollin' Hos ended 168- 148 in our Finnish hosts favour. We were all really excited to play, warming up and pep talking with our awesome guest bench crew from Kallio, Dominå F. Äkt and Skinhead O'Connor. The event turned out to be a real nailbiter with DCR being the halftime leaders.
Unfortunately we suffered a couple of unlucky power jams in the second half resulting in TRD gaining the lead and managing to keep it until the end. Despite this we played a really even bout which made DCR climb several positions up the Europe roller derby rankings.
Regardless of placing second our team had a great time in Finland! The TRD members were really sweet, picking us up at the airport (even those who arrived in the middle of the night!), giving little sightseeing tours on the way and providing lodging. They also turned out to be really good at karaoke! DCR was not far behind though, with our bout award winners Slayla K (MVP), Crocodile Sandee (Best blocker) and Karrkrash (Best jammer) taking over the stage with Tina Turner's Simply the best.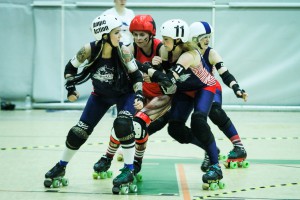 All bout photos are taken by Marko Niemilä. More derby pictures can be seen here.