About a year ago DCR faced Tampere Rollin Ho's in Finland, losing by just a few points. Last weekend it was time for a well-earned rematch, this time in Gothenburg on DCR's home arena. DCR was all revved up, eager to get their long awaited revenge against the Finns.

Unfortunately things don't always go as planned. Although both teams had improved a lot since last time Tampere managed to get a grip of the game right from the start and DCR struggled a bit to keep up. When DCR finally managed to calm down and play as nice as they usually though it was sadly too late and the game ended 282-160 in Tampere's favour. However, it was still a great game and everyone was happy and hugging each other afterwards. Mad Fish scored the diploma for Best jammer and Crocodile Sandee was named Best blocker, two very well deserved awards.
Oh, and Tampere? Third time's the charm!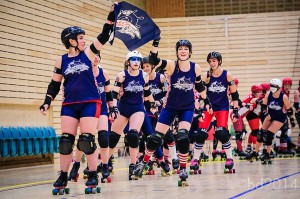 As always, the pictures have been snapped by the fabulous Bengt of bengtster design.